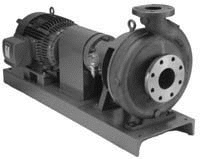 GRISWOLD's Model 811 meets or exceeds all ANSI standards for the chemical processing industry.The fully open impeller, centerline discharge, and other unique design features allow the 811 to continue operating long after other ANSI pumps wear out or break down. For example:
A choice of extra-heavy-duty, stocked, Ductile Iron, Stainless Steel, Alloy 20 and CD4M pump materials coupled with multiple seal design options allows you to tailor the 811 to virtually any process flow application.
The fully-open impeller design features large wear areas and back pump-out vanes, making the 811 far superior in handling corrosive and erosive fluids. Open impellers balance hydraulic axial thrust loads, lengthen bearing life, and reduce stuffing box pressure too.
The self-tightening impeller with O-ring seal eliminates part corrosion, gasket leakage, and all chance of loosening in high temperature environments.